Collide: An Evening of Collaborations

The Hobby Center, September 2013
Overview
NobleMotion Dance, known for its physically daring and visually stunning work, presented "Collide: An Evening of Collaborations" at The Hobby Center's Zilkha Hall, September 6-7 at 8 PM. The evening features a live performance by Austin post-rock band My Education, light and technology installations from the renowned Jeremy Choate and David J Deveau, and guest performances by some of Houston's best contemporary dancers. NobleMotion consistently receives critical acclaim for their "extraordinary athleticism" and "cutting edge" programming and is recognized as one of Houston's "A-list" Dance companies. Collide is "in your face elegant" and a show you won't want to miss!
About the Dances
"Photo Box D," NobleMotion's first collaboration with light artist Jeremy Choate, is a mysterious dance that gives new meaning to now you see it, now you don't. Dance critic Nancy Wozny stated, "I gasped when these daredevils careened into night, fearlessly leaping into the void. The experience gave new meaning to coming out of nowhere." Critic Neil Ellis Orts exclaimed, "we were treated to a fascinating play of light, shadows, and the human form." This performance of "Photo Box D" marked the one-year passing of Jeremy Choate. NobleMotion was honored to share his light with audiences once again.
NMD performs with Rock Band
"With Both Hands" brings My Education's post-rock sound to the stage as they perform live with NobleMotion Dance. The six-member band composed an original score that utilizes black box recordings from an airplane crash and augments them into unrecognizable haunting tones. "With Both Hands" plays with time by starting the dance in the middle and slowly works both forwards and backwards to blur the lines between memory and reality.
The Grid
NobleMotion continues its ongoing collaboration with light/tech artist David J Deveau in a new work "The Grid." A work under constant construction, "The Grid" manipulates twelve 4×8 foot movable walls and utilizes real-time projection design to shape perilous environments such as shrinking rooms, cliff side drop-offs, and cat-n-mouse mazes. An emotionally charged and chaotic work, "The Grid" combines NobleMotion's flare for the surreal with thoughtful story telling.
Lots of Men Dancing
"Maelstrom" is an intense and athletic dance for 15 men that questions man's role in society. Imagine "Fight Club" meets contemporary dance; it is all testosterone! Maelstrom takes some of the top contemporary male dancers in Houston and puts them on stage together to duke it out. We have eleven additional dancers representing some of the various companies in Houston joining the men of NobleMotion for this "Beast Mode" collaboration.
Collaborators
Lighting Designer: Jeremy Choate
Light Tech Artist: David J Deveau
Composers/Performers: My Education, post rock band from Austin, Texas
Details
Collide: An Evening of Collaborations
The Hobby Center, Zilkha Hall
September 6 & 7, 2013
Photos by Lynn Lane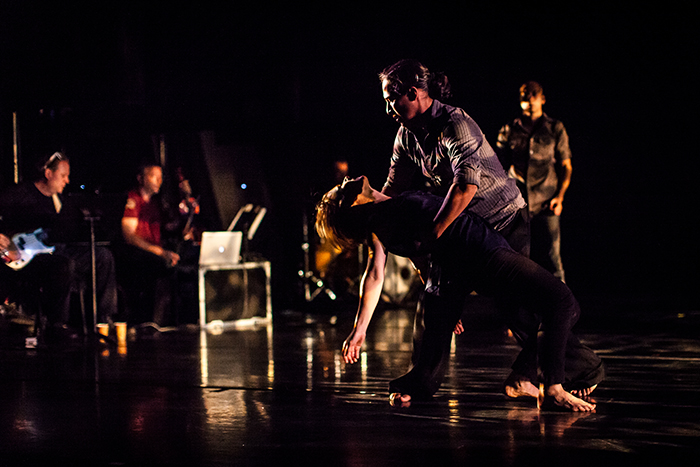 Two year's in the making, NobleMotion was delighted to share the stage with My Education from Austin and premiere the finished work "With Both Hands" for Houston audiences with live accompaniment. My Education rocked The Hobby Center that weekend!