Collaborators
David Deveau – Lighting and Technical Artist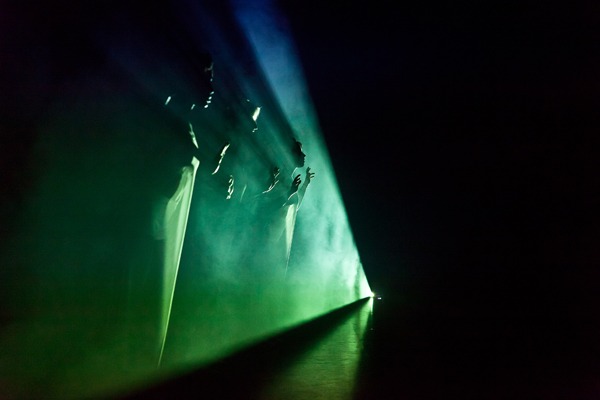 Lorelei's whisper; Photo by Lynn Lane    
NobleMotion Dance is lucky that artist David Deveau is willing to wear many hats when it comes to NMD. David is our resident lighting designer for the company. He is also is the company's manager and technical director, seeing to it that performances, tours, and rehearsals run smoothly. He is an amazing problem solver, often finding solutions to some pretty tricky issues regarding props in terms of usability or travel options. And he also has a knack for researching all kinds of information to assist us in making smart decisions on a daily basis.
But David's talents don't stop there. Mr. Deveau is also a clever artist who is always ready to offer an inventive idea to the creative process. NMD decided to cash in on that talent by collaborating with David on Spitting Ether: A Reality Bending Dance that premiered in the Fall of 2012 for Houston audiences at the Barnevelder Movement/Arts Complex.
Click here to here what the Nobles and Deveau had to say about the collaboration to Bob Stevenson on NPR's The Front Row.
_________________________________________________________________________________________
Jeremy Choate – Light Artist

Photo Box D; Photo by Jeremy Grandberry
NobleMotion Dance and Jeremy Choate collaborated on a number of projects together prior to his tragic passing in 2012. "Photo Box D" and "Light Blanket-X44″ are two works that include original light installations by Choate based on non-conventional light sources. These collaborations are specifically unique because of the creative process that generated the works. In both circumstances NMD asked Choate to create an instillation and design light cues prior to the choreographic process. It was then NMD's turn to choreograph in response to the lights. The results were magical with the dance and light so closely related it is almost impossible to see one without the other. In August of 2011, NMD and Choate presented the evening length production "Splitting Night" that played to sold out houses. NMD is deeply saddened by the loss of this great artist and close friend. We plan to have his beautiful work with the company live on through our programming.
Learn more about Jeremy Choate at www.jercho.com.
_________________________________________________________________________________________
Lynn Lane – Photographer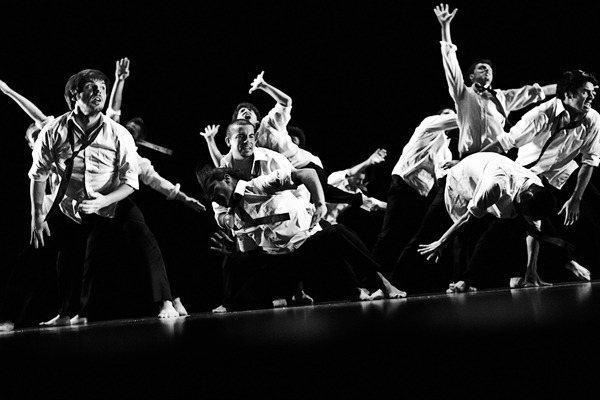 Maelstrom; Photo by Lynn Lane
NobleMotion Dance is pleased to be working with Houston photographer Lynn Lane. Lane and NMD found each other in early 2011 and have been working together to document current NMD projects. Lane regularly visits rehearsals to capture the creative process as well as the finished product with lights and costumes.
"We have never had a photographer so willing to share his talents with us in such a generous fashion. His work is invaluable, for he is documenting our process. And the photographs are so stunning that we are more than proud to have them represent the company. We consider ourselves very lucky to have Lynn on board!" – Co-Artistic Director Dionne Sparkman Noble
Learn more about Lynn Lane at: www.lynnlane.com